| | |
| --- | --- |
| | Welcome to Dynamic-Cable.com |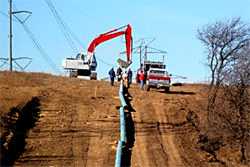 Founded as Superior Cable - a Houston based CATV installation company in 1980; Dynamic Cable Construction Company, L.P. is now recognized as a leader in underground utility construction and installation throughout the United States. We specialize in providing complete long-haul and metropolitan turnkey solutions to the telecommunication's industry . Whether the project requires installation by open-trench, direct burial or directional drilling, our customers have come to depend on Dynamic Cable for reliable, on-time quality installations.
History
Following our incorporation in 1984, Dynamic Cable expanded rapidly. After relocating our headquarters to New Orleans in 1984, Dynamic Cable went on to complete numerous projects across the southern U.S., including Colorado, Louisiana, Texas, Florida, Alabama, Mississippi, and Georgia. These projects grew in scope to include not only cable installations, but additionally fiber optic placement for both metro and long haul projects by directional boring, swampland conduit placement as well as concrete and asphalt trenching.

In 1990, Dynamic Cable built a new 8,000 square foot warehouse/office building near Tyler, Texas. While maintaining New Orleans as a base of operations for Louisiana to Florida, including Georgia and the Carolinas, the corporate headquarters was moved to Tyler to serve as a base of operations for turnkey telecommunication services in Texas.
Our Team
The growth of Dynamic Cable has been a result of the company's dedication to quality craftsmanship and customer satisfaction. These qualities alone, however, are not in themselves sufficient to sustain a business in today's competitive environment. That is why Dynamic Cable has sought out a team of experienced professionals who are aware of their key roles in the continued success of our company. To the customer, this attitude not only means jobs completed on or ahead of schedule, but professional workmanship and flawless performance from start to finish.

| | |
| --- | --- |
| | Asset Security |
In lieu of placing fiber duct banks and petroleum pipelines at great depths to protect the assets from terrorists and vandals, Dynamic can design and implement a security system that is much more cost effective.
| | |
| --- | --- |
| | Featured Projects |
El Paso, TX to Chihuahua City, MX: Long Haul Fiber Project.
For a desert build through the badlands of Mexico, this project, at first glance, seemed typical to Mickey Redwine, CEO of Dynamic Cable, as he performed the pre-engineering feasibility route study from a helicopter. What wasn't expected were the challenges his crews would face from both a Drug Cartel and an extortionary former State Governor.
The Puente Grande River Bore... "The Devil's Directional Bore" near Guadalajara, Mexico
This bore was one that the local Mexican Nationals said could not be done due to a Devil's Curse. After overcoming many obstacles, the bore was completed and the people of Mexico celebrated with the Dynamic Cable employees as they completed the impossible.
Dynamic Cable Sets World Record Boring the Potomac River near Washington, D.C.
This crossing required a record 6,600 feet of drill and leave 5" pipe. In order to do the job, Dynamic Cable purchased a boring rig with 436,000 pounds of push/pull force and 57,000 feet/pounds of rotational torque.